"Meeting the notables from Potsdam and Berlin"
In the Imperial capital and residence of Potsdam Ernst Rabien opened his cafe and soon became purveyor to the Court of Prince of Hohenzollern in Potsdam.
The daughter of German Emperor Wilhelm II., August Bebel and later Kurt Tucholsky were regulars just lke the movie stars of nearby Babelsberg movie studios. The Rabien family saw all: the glamourous period of the Hohenzollern emperor Wilhelm II., they lived through the decline, WW 1, the Weimar Republic, the Nazi dictatorship. Finally they had to give up their business in socialist GDR. After the end in Potsdam came the new beginning in the west of Berlin.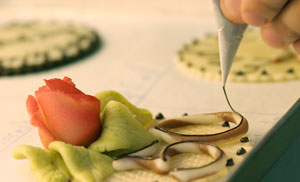 Generations change - the good tradition remains alive
Today our family-owned business is in the fourth generation. Every day, we create fresh tree cake specialities, various layer cakes, wedding- and bithday cakes. And every day, we ship our popular tree cake to customers around the world. Our team of pastry chefs and sugar-craft artists, a staff of 28 are at your service.
Our uncompromising high quality standards aply to every single product of our pastry collection. Only pure, unaltered natural ingredients are used.
We vouch for this with our good family name,

Johannes Rabien
As it was the tradition of our family since 1878, our Café Rabien has re opened in 2015 - after 45 years.

The new, big and light Café provides seating inside and outside. Choose from over 60 different cakes and various confectionery, which are baked freshly every day. We serve Austrian cafe, espresso, teas and cold drinks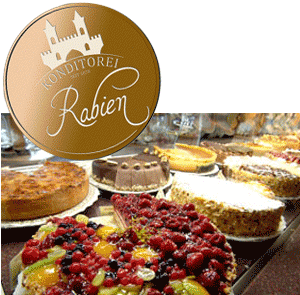 Visit us at: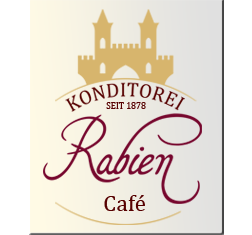 Konditorei Rabien
Klingsorstr.13 - 12167 Berlin
OPENING HOURS 2023
Mondays closed
Tuesday to Saturday 10:00 - 18:00
Sunday 12:00 - 18:00


Open Christmas Eve
Sunday 24.12.2023 from 8.30 - 13.00


We are closed from
Dec.25th 2023 - Jan. 1st. 2024
Give us a call or contact us here...
phone orders: (030)791 65 95
further information